Jung and Neumann
The Jung Neumann Conference, Kibbutz Shefayim, April 24-26, 2015

24 April 2015
Erel Shalit: Introductory greetings:
Dear friends and colleagues,
It is with the greatest pleasure that I welcome you all, who have gathered here at the eastern shores of the Mediterranean. Jung anchored here 82 years ago, in the spring of 1933, and Neumann lived here, close to the sea, from the time he stepped ashore, in the spring of 1934.
One of the more intriguing passages in Israel's Declaration of Independence says, as is commonly known, that the pioneers came here from all over the world to make deserts bloom. But if you read carefully, in Hebrew it is not written that they made deserts bloom, but that they came to make souls blossom. This remarkable interchange between soul, spirit, land and desert has its source in the book of Ezekiel.
I believe we have, indeed, arrived from around the world, gathering here to let the souls blossom, to kindle a light in our hearts and in the soul, especially, perhaps, at a time when unruly winds sweep across a sky that lends itself to all too concrete shadows of projection, and to the evils of the psyche.
And we have gathered to gain further insights into the pioneering work carried out respectively by Jung and Neumann, into the fields and the forests, the mountains and the depths of the mind.
The seed of this conference was planted by Mr. Ulrich Hoerni, who at the signing of the agreement to prepare the correspondence, suggested it be officially launched in Israel. I wish to thank the Philemon Foundation who under the presidency of Steve Martin and later Nancy Furlotti pursued and enabled the preparation of the correspondence, and, under Judith Harris, its publication, and Martin Liebscher who has brought this exchange into the light of day.
The letters were written at a time when writing went beyond the short message service, the SMS, or the senseless twitter of 140 characters; they were written when character was singular and individual, and made its soulful imprint on a meaningful dialogue of creative minds.
I want to greet and thank our sponsors, the Swiss Embassy and His Excellency, Ambassador Dr. Andreas Baum; the Philemon Foundation; Princeton and Fred Appel who has made this possible; the IAAP and its Presidents: Tom Kelly in the present, past presidents Thomas Kirsch, Christian Gaillard and Murray Stein, and President elect Marianne Mueller; the IIJP and Avi Baumann, FAJP; Recollections and Nancy Furlotti; Digital Fusion with Hugh Milstein, and the Jung Stiftung and the Neumann Heirs.
A very big THANK YOU goes to the people who have worked for more than a year to arrange this - the program and organizing committee: Batya, Yehuda, Tamar, Henry and Avi; and to the conference organizers, with Liron, Naama, Adi and Anat.
And a very, very special THANK YOU to Murray Stein, for the enormous work and your decisive contribution to this conference – you have firmly stretched out your hand, and kept the flame burning.
All speakers have been enthusiastic in their/your undertaking, and I know that you will bring us the fruits and the passion of your creativity, and I know that the fruit is very good.
And we have received tremendous support from the international advisory board, thank you!
We also want to greet the Grand Old Lady of Jungian Analysis in Israel, Dvorah Kuchinsky, an inspiration to all of us, who has carried the torch of life through the darkest chambers of evil, who continues to teach generation after generation the works of her friend and mentor, Erich Neumann.
And we mourn and are saddened by the loss of Eli Weisstub, past President of the Israel Association of Analytical Psychology, and past vice-President of the IAAP, who passed away only a few weeks ago after a long illness.
Israel, the land and the people, easily swings between hope and despair, between the soul that sinks deep into the swamps, and the spirit that rises high. Those of you who have been here for a few days have noticed how the sounding of the air raid sirens and the flames of Remembrance Day turn into the fireworks of Independence Day.
The close proximity between the individual and archetypal forces is ever-present. Few describe it better than Yehuda Amichai, the poet of Jerusalem, who writes:
I and Jerusalem are like a blind man and a cripple.




She sees for me




out to the Dead Sea, to the End of Days,




And I hoist her up on my shoulders




And walk blind in my darkness underneath.
And this particular proximity, and as a bond between people, peoples, cultures and nations, Yehuda Amichai was delivered into this world by the grandfather of Joerg Rasche.
I want to thank you all for coming, to make this a true celebration, a creative and fruitful gathering. We have truly gathered from the continents of the world, from North and South America, Europe East and West, from Africa, Australia, Asia and China.
I pray that with all the energy gathered here, the human spirit will rise up high, while firmly anchored in the landscape of the soul - Welcome!
I would now like to invite His Excellency Dr. Andreas Baum, Ambassador of Switzerland to Israel, to open the Conference –your presence, and hosting this event, is an honor to us.
26 April 2015
Erel Shalit: Endnotes:
Dear friends and colleagues,
What a gathering! What a weekend!
At least I do not know the whereabouts of the original Jung-Neumann letters, in what cave, or in what library they are hiding. However, fifty years after the passing of Jung and Neumann the contents of the correspondence between them could emerge from the shadows and begin their journey into the public sphere. I believe we have held the infant, and guided the newborn into its life.
I believe we have here, together, helped this book in its first weeks of infancy; with careful hands we have held its essence, so that the body of the book shall live.
We live in an unruly world: oceans are poisoned. Mother Earth shakes, and our thoughts go to the victims in Nepal.
We live in a world of cataclysmic clashes, flooded by information to the extent that we get desensitized, and with the loss of our senses, we often fail being compassionate. Thus, evil becomes such an everyday commodity that we fail to see how unintegrated evil must be in order for us to realize its otherness and archetypal reality.
We live in an era in which we are flooded by information, easily confusing information with knowledge, knowledge with understanding and understanding with wisdom. We have gathered here in this kibbutz – which means 'gathering,' and spent fifty hours together on this island of apparent tranquility, drawing from the wells of wisdom that you have all brought here, mediated by the wealth of thoughts and reflections that our wonderful, incredible speakers – and actors, singers, and composers of challenging works – have so graciously shared with us.
Jung and Neumann, the young and the new, the old and the wise, may serve as profound inspiration not merely because of their extra-ordinary depth and creativity and their admirable traits, but perhaps no less because of their all too human weaknesses, as these come across in their conversations and controversies –in what is written, and perhaps no less in what unregistered by the written word.
Some of you will rush back home into everyday routine, some will fly off to the corners of the world that constitute your reality, and many will continue to explore this land where human ground and archetypal spirit sometimes unite – to form new religions, to reveal profound discoveries, and unique acts of human integrity. At other times, in the shadow under the often cruel, blazing and not always enlightening sun, human weaknesses may seem all too apparent, so dark that gods become demons, and ploughshares turn into swords of rivalry and animosity.
In olden times, the jubilee was celebrated every fiftieth year, with the emancipation of slaves and restoration of the land, with the possibility of turning the face inward, to the night and to the internal depths, to the wisdom from below, the domains of the Great Mother, that Neumann speaks about. The word jubilee comes from yovel, originally meaning bellwether – i.e., taking the lead, the initiative, intuiting future trends.
Neurosis is intimately bound up with the problems of our time, says Jung – and from what I have gathered during these days, I will hold on to the great gift of sitting with you all around this bonfire of mind and meeting, of the wisdom of the heart, which holds the promise that from this jubilee and jubilation we shall bring our individual contributions into an unruly world.
I want to thank all of you, all of you, who have come together here, and the members of the advisory board; the Kenes organizers – Na'ama and Liron, Moran and Keren, Adi and Anat; and the staff and the hospitality of kibbutz Shefayim; and the speakers who have inspired us profoundly; Tamar and Murray with whom we created this program; Batya, Yehuda, Tamar, Henry, Avi and Batya Stern, who have worked for more than a year to bring the idea into the fruition of reality.
We would like to end our gathering by reading a poem of Goethe's, in German and English, and one of Yehuda Amichai, in English and Hebrew, and with that I wish you all well upon your fare.
People in a hall that's lit so brightly
It hurts
Spoke of religion
In the lives of contemporary people
And on the place of God
People spoke in excited voices
Like in an airport
I left them
I opened an iron door that had written on it
"Emergency״ and I entered within.
Great serenity: Questions and answers
Links
עופר אדרת, הארץ: מכתבים אבודים חושפים את צלה של הנפש הציונית
Links to blog posts
A report from the Jung Neumann Conference, April 24-26, at kibbutz Shefayim
Jung Neumann Conference - THANK YOU ALL!!!!
עופר אדרת: צלה של הנפש היהודית - על ההתכתבות יונג נוימן
The Jung-Neumann Conference, April 24-26
Symposium at Pacifica "Creative Minds in Dialogue", June 24-26, 2016
Pictures from the Symposium "Creative Minds in Dialogue"
The symposium was held June 24-26, 2016 at Pacifica Institute in Santa Barbara, featuring internationally acclaimed speakers, including Riccardo Bernardini, Lionel Corbett, Nancy Furlotti, Ann Lammers, Lance Owens, Rina Porat, Susan Rowland, Erel Shalit, Evan Lansing Smith, Murray Stein and Steve Zemmelman.
Here are some photo-memories. Photos by Amy Katz, courtesy of Pacifica Graduate Institute.
Speakers at the symposium
The symposium celebrated the unique contributions of Jung and Neumann, with original presentations on topics ranging from creativity, art, Jung/Neumann and their impact on culture and the post-modern world, to anima and the great mother, and God, good and evil.


Erel Shalit
Ann Lammers Joe Cambray
Lance Owens and Rina Porat
Evans Lans Smith
Lionel Corbett
Nancy Furlotti
Neumann Paintings
Riccardo Bernardini
Steve Aizenstadt
Erel Shalit
Heidi Townshend
Creative Minds in Dialogue - Program
Friday, June 24, 2016
Registration/Refreshments
9:00am – 10:00am
Pre-Symposium Workshop
10:00am – Noon Freeing the Feminine: Exploring Creativity and Gender in the Shadow of the Great Mother with Neumann and Jung
Noon – 1:30pm Luncheon
1:30pm – 4:00pm Gynetypes and the Goddess: Archetypal Images of the Divine Feminine
Evans Lansing Smith, Ph.D.
4:00pm – 5:00pm Break/Refreshments in Bookstore
5:00pm – 6:00pm Dinner
Symposium
6:00pm – 6:30pm
Opening
Steve Aizenstat, Ph.D.
Joe Cambray, Ph.D.
Erel Shalit, Ph.D.
6:30pm – 7:10pm
Soulful Companions: A Profound and Honest Friendship
Nancy Swift Furlotti, Ph.D.
7:10 – 7:25PM Discussion with participants
7:25pm – 7:40pm Break
7:40 – 8:30pm
Jung and Neumann at Eranos: Psychologies, Myths, and Utopias of a Spiritual Earth
Riccardo Bernardini, Ph.D.
8:30pm – 8:45pm Discussion with participants
8:45 – 8:55pm Break
8:55 – 9:30pm
'Eranos 1951' – screening of film
Riccardo Bernardini, Ph.D.
9:30pm – 9:50pm Discussion with participants
9:50pm – 10:00pm Closing Remarks
***********************************************
Saturday, June 25, 2016
8:00am – 9:00am Breakfast
9:00am – 10:15am
Jung and Neumann on Judaism and Religion – part I
Erel Shalit, Ph.D. – Jacob and Esau – from Jung's discussion to Neumann's book
Steve Zemmelman, Ph.D. - Inching Towards Wholeness: C.G. Jung and his Relationship to Judaism
10:15am – 10:30am Discussion with participants
10:30am – 11:00am Break
11:00am – 11:50am
Jung and Neumann on Judaism and Religion – part II
Ann Conrad Lammers, Div, Ph.D., LMFT – The risks of a direct encounter with God: A central Jungian problematic in Neumann's The Roots of Jewish Consciousness.
11:50am – 12:15pm Discussion with participants
12:15pm – 1:45pm Lunch
2:00pm – 3:30pm
The Feminine in Jung and Neumann
Rina Porat – The Psychology of the Feminine Archetype in C. G. Jung and E. Neumann
Lance Owens, M.D. – The Feminine in Jung and Neumann: Sophia and the Shekinah
3:30pm – 4:00pm Discussion with participants
4:00pm – 4:30pm Break
4:30pm – 5:45pm Book signing and reception
6:00pm – 7:10pm Dinner
7:15pm – 8:15pm
Jung and Neumann – Paintings from the Psyche
Nancy Swift Furlotti, Ph.D.
8:15pm – 8:50pm Discussion with participants
8:50pm – 9:00pm Concluding Remarks
***********************************************
Sunday, June 26, 2015
8:00am – 9:00am Breakfast
9:00am – 9:45am
Erich Neumann on Psyche's Creativity
Murray Stein, Ph.D. (By Skype)
Respondent: Joe Cambray, Ph.D.
9:45am – 10:00am Discussion with participants
10:00am – 10:15am Break
10:15AM – 11:00AM
The cultural psyche – from the ancestors to the post-modern world
11:00am – 11:15am Discussion with participants
11:15AM – 12:00PM
God, Good and Evil - From a New Ethic to Answer to Job
12:00pm – 12:30pm Discussion with participants
12:30pm – 2:00pm Lunch
2:00pm – 3:30pm
Late, last and forgotten thoughts – discussion with presenters and audience

Orienting remarks by Joe Cambray, Ph.D.
3:30pm – 4:00pm Concluding remarks
Chair Stephen Aizenstat, Ph.D.
5:30pm – 6:30pm Dinner
Analytical Psychology in Exile: The Correspondence of C.G. Jung and Erich Neumann
edited and with an introduction by Martin Liebscher
C. G. Jung and Erich Neumann first met in 1933, at a seminar Jung was conducting in Berlin. Jung was fifty-seven years old and internationally acclaimed for his own brand of psychotherapy. Neumann, twenty-eight, had just finished his studies in medicine. The two men struck up a correspondence that would continue until Neumann's death in 1960. A lifelong Zionist, Neumann fled Nazi Germany with his family and settled in Palestine in 1934, where he would become the founding father of analytical psychology in the future state of Israel.
Presented here in English for the first time are letters that provide a rare look at the development of Jung's psychological theories from the 1930s onward as well as the emerging self-confidence of another towering twentieth-century intellectual who was often described as Jung's most talented student. Neumann was one of the few correspondence partners of Jung's who was able to challenge him intellectually and personally. These letters shed light on not only Jung's political attitude toward Nazi Germany, his alleged anti-Semitism, and his psychological theory of fascism, but also his understanding of Jewish psychology and mysticism. They affirm Neumann's importance as a leading psychologist of his time and paint a fascinating picture of the psychological impact of immigration on the German Jewish intellectuals who settled in Palestine and helped to create the state of Israel.
Featuring Martin Liebscher's authoritative introduction and annotations, this volume documents one of the most important intellectual relationships in the history of analytical psychology.
Turbulent Times, Creative Minds
Erich Neumann and C.G. Jung in Relationship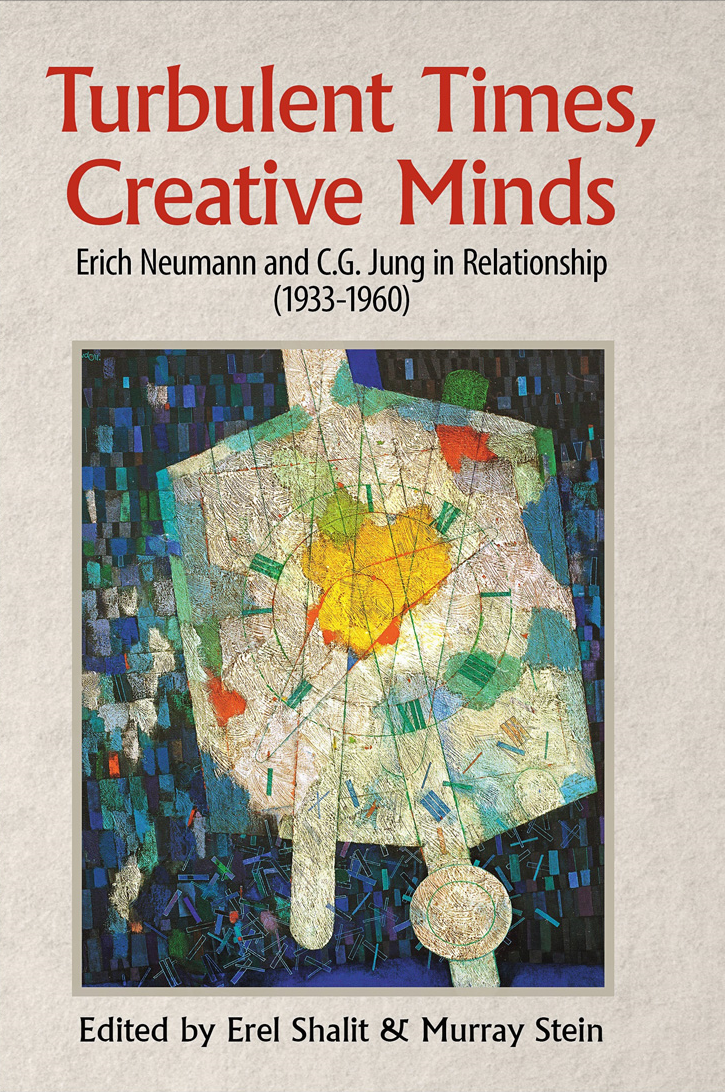 This volume of essays by well-known Jungian analysts and scholars provides the most comprehensive comparison to date between the works of C.G. Jung and Erich Neumann. Reflections are based on their extensive correspondence recently published, their differing cultural backgrounds, and the turbulent times surrounding their personal and professional relationship. Among the many specific subjects discussed are Jung and Neumann on art and religion, their views on the problem of evil, and clinical aspects of Neumann's work. Also included are personal memories of both Jung and Neumann family members.
The book includes exclusive photos from Eranos, and several illustrations in color.
Jacob and Esau: On the Collective Symbolism of the Brother Motif
Cover image from a silhouette by Meir Gur Arieh
Encouraged by Jung, in his book on the collective symbolism of the brother motif, Neumann began outlining ideas that he eventually would develop in some of his major works, such as Depth Psychology and a New Ethic. Neumann uses the story about Jacob and Esau to illustrate the polarities in the human soul, between introversion and extraversion, profane and sacred, the moon and the sun, both in Jewish tradition and universally, and the need to integrate the shadow, as illustrated in Jacob seeing both God's face and his hostile brother in his struggle with the angel. In Jungian terms, we see the inevitable conjunctio of Self and Shadow.
The book can be seen as a brilliant midrash, retelling and interpretation of the Biblical motif of the brothers.
Etching by Jacob Steinhardt
The Jung Neumann Letters Conference: Erel Shalit and Murray Stein in Conversation
The correspondence between C.G. Jung and Erich Neumann, published more than fifty years after their deaths, has been a landmark event in the history of analytical psychology. Following a suggestion by Ulrich Hoerne, Jung's grandson, Erel Shalit organized and chaired the launch of the Correspondence at an international conference with attendees from more than twenty-five countries in kibbutz Shefayim, April 24-26, 2015.
Erel Shalit and Joseph Cambray in Conversation on Erich Neumann
In this fascinating conversation, Jungian analysts Erel Shalit and Joseph Cambray contemplate the work of Jung's colleague and friend, Erich Neumann, a Jewish analyst who introduced analytical psychology to Israel when he fled there from Germany during the years surrounding World War II. Neumann wrote extensively on creativity, the feminine, and the roots of the Jewish spirit. The recent publication of the correspondence between Jung and Neumann has fueled a revival of sorts into Neumann's works. Here, Shalit and Cambray discuss little known details about Neumann's life and work, his motivations for writing, and his art work and paintings. "Neumann brings significant aspects well worth raising into our present consciousness," Shalit suggests, "concepts, ideas, thoughts, notions that have universal value for our world today."
Pacifica Graduate Institute hosted "Creative Minds in Dialogue: The Relationship between C. G. Jung and Erich Neumann," a symposium in Santa Barbara, CA, June 24-26, 2016.
The Jung Neumann Letters Conference - an Interview with Malgorzata Kalinowska
The Interview was conducted on the 26th of May 2015 in Kibbutz Shefayim, Israel (audio and transcript)
Links to blog posts
C. G. Jung and Erich Neumann: The Zaddik, Sophia, and the Shekinah, by Lance Owens
NEUMANN, RELIGION & THE NUMINOUS: Ann Lammers & Tamar Kron
Erich Neumann:Jacob and Esau - on the collective symbolism of the brother motif
C. G. Jung and Erich Neumann: Paintings from the Psyche
Pictures from the Symposium "Creative Minds in Dialogue"
Paintings from the Psyche - Jung and Neumann
Creative Minds in Dialogue: the Relationship between C. G. Jung and Erich Neumann
The Psychoanalytic Relationship between Israel and Switzerland
Gershom Scholem: Obituary for Erich Neumann
____________________________